Dying for a Living - The Most Dangerous Jobs of the 19th Century for Children
C.A. Asbrey
The average life expectancy in the mid 19th century was forty for men and 42 years for females. That was an average, though. There are many people who lived to a ripe old age. For instance, Margaret Ann Neve was born in 1792, three months before Marie Antoinette was executed, and while George Washington was president of the United States. She died in 1903, a month before her 111th birthday. She spoke of visiting the battlefield at Waterloo during 'Napoleon's troubled times' whilst on her honeymoon. Clearly, the idea of a romantic day out has changed over the years, but she did find the belt buckle of an Imperial Guard as a keepsake. But Neve was wealthy. She was a friend of Queen Victoria, and enjoyed a good diet, lifestyle, and the best medical care. The poor were not so fortunate. By 1900 the average life expectancy had risen to only forty five for men and 50 for women.
Margaret Ann Neve
One of the major problems was the danger from infections, either from minor injuries, or from childbirth. Another was the total lack of consideration for health and safety for people in the workplace. Children were not excepted from the harsh realities of work life either.
Poor children were a burden, the least powerful, and unrepresented by any group. Homes couldn't wait to get rid of them, shifting responsibility for them to whoever took them on. The authorities cared little about their welfare, and even less about the working conditions they faced when taken on for gainful employment.
At the bottom of the list were those who rummaged through waste and garbage for anything recyclable. Remarkably little was wasted in the 19th century. Old cloth, bone, blood, urine, even animal waste; all had a value and would be sold on to make glue, fertilisers, paper, and in the use of tanning, dye making, or even in production of gunpowder. The housewife would scan the garbage bin to prevent servants being too wasteful, and wagons toured the streets looking for waste to purchase. Even ashes had a value. They were used in gritting paths in icy periods, any small bits of wood or coal were re-burned, and wood ashes were used as fertilizer. Bones were boiled until bleached white to make stock, and then sold on. Pig bins were common, and scraps were converted to pigswill or chicken food.
Mudlarks of London
What was left, was scavenged by children for any scraps worth using. Some children in London even paid to be allowed to scavenge below the waterline on the tidal Thames. They were called the mudlarks, and they not only could find flotsam and jetsam from the shipping, but they could hit lucky and find historic coins or valuables lost from bridges. If they were unlucky, they could get injured or get cut off by the ruthless tides and drown. They routinely found bodies; both human and animal.
Children were popular in any role which required squeezing into small spaces. Rat catchers would take children from workhouses and orphanages in much the same way as chimney sweeps would. These children would be used to go into sewers and tiny holes as rats were valued if caught alive, as they were used in sports (a dog would be put in a pit with a large number of rats, and bets would be taken on how long it took for the dog to kill them all. The children risked bites, disease, infection, and the inevitable danger of being jammed in a hole where they would suffocate in the dark. Their counterparts in the chimney sweeping world could suffer a similar fate. Children of both genders were sent up chimneys, some no more than nine inches in diameter. The worst thing to happen would be a slip. If they didn't fall all the way to the bottom and fracture bones, they could get themselves caught with their knees jammed up at their chests. That would restrict their breathing until they slowly smothered. Sometimes bricks had to be removed from the chimney to remove the child's body. If they survived to enjoy a career, they were prone to a
squamous-cell carcinoma which was caused by soot particles irritating the skin, particularly on the scrotum.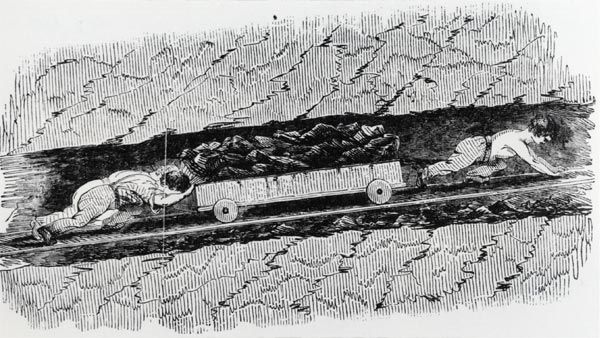 In All Innocence
Excerpt
Almost everyone woke simultaneously, jolted by the sound of the brakes grinding, and the engine puffing and huffing in protest at an unscheduled stop. Jake's hand reached for his gun even before he was fully conscious.
"No!" The cry came from Jeffrey, the younger steward, who staggered into the aisle in shock.
Nat strode out of the curtained area, fastening his trousers. "What's wrong?"
"Mrs. Hunter," Jeffrey stammered. "She's dead."
Nat dragged the curtain aside, revealing the tiny-framed woman lying in a pool of blood. He kneeled and scrutinized her. "Bring a lamp." He reached out and touched her face. "She's alive. She's warm. Fetch Philpot. He's a doctor."
The Englishman wandered groggily forward. "I'm not a doctor. I'm a—"
"We don't care what you are, Philpot," Jake growled. "You're the nearest thing we've got. You've got medical training. Get in there."
Mrs. Hunter's eyes flickered weakly open. "My moonstone. Miss Davies—she took it." She fell back into insensibility.
Jake frowned and his keen blue eyes looked up and down the railway car at the passengers crowded in the aisle in various stages of undress. "Where is Miss Davies? Have you seen her, Abi? You're bunkin' with her."
"No, she isn't here." Abigail frowned. "I haven't seen her for ages. She wasn't even in her bunk when I changed Ava."
Malachi padded briskly up to the group, pushing various butlers out of his way as they milled around. "Oh, my goodness! The poor woman."
Jake nodded. "Yeah, Philpot's seein' to her. She's still alive. Why've we stopped? We ain't at a station."
Malachi quickly fastened a stray button. "I'm sorry, gentlemen. I have been informed that a rock fall has blocked the tracks. We will dig it out and be on our way as soon as possible."
"A rock fall? So, how far to a station?" Nat asked. "We're high in the mountains, miles from anywhere."
There was another ominous rumble somewhere above them and the carriage shook. The roof thundered with the thumps and clattering of stones and gravel pounding the roof. Worried glances rose upward while Abigail hunched protectively over her baby. The noise gradually stopped, but for an occasional patter of settling gravel and stones shifting above them.
The head steward's brow crinkled into a myriad of furrows. "I'd best go and check that out."
Nat's brows knotted into a frown. "We're miles from anywhere? So where has Maud Davies gone?"
"With the moonstone?"
Jake strode over to the door and looked out at the huge feathery flakes drifting down from the heavy skies onto an expansive mountainous vista. "There's nowhere to go."