Good as Cookie's coffee is, after a long day of fillin' up on dust on the trail a cowpoke wants to sit back with a cold brew or soda pop...Oh yeah, cowboys love a grape or orange pop, look it up… And the place that was brewin' up the best was the Sheridan Brewing Company!
In 1887, Arnold Tschirgi, George Paul, and Peter Demple, joined forces to found The Sheridan Brewing Company. First they had to avoid robbers' intent on stealing the business's start-up money. Thieves were common along the Cheyenne to Deadwood stage line. So, the men sent the $10,000 in gold by the Northern Pacific Railroad to Custer Station, and transported the capital the rest of the way by wagon. By 1888, the brewery distributed its first product.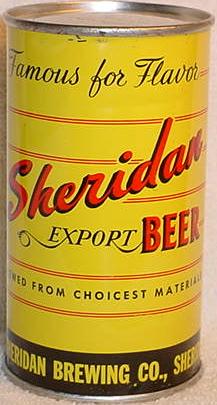 A year later, in 1889, The Sheridan Brewery expanded its operations, producing millions of barrels of beer before Prohibition in the 1920s. Undeterred by this law, the brewery shifted to new products like near beer Sherex and an assortment of fruit-flavored soft drinks.
By the end of Prohibition in 1933, the brewery was producing 600 barrels of beer a day. During World War II, the Brewery began canning water in their recognizable yellow cans. Canned water was sent to the front for the boys, and later kept by citizens for emergency situations.
By 1954, 60,000 barrels of beer a year left the brewery, and at this time the Sheridan Brewery stopped its beer operations and focused on soda pop. That same year the brewery became the first company in the United States to bottle its products in flat-topped cans.
The Can-a-Pop Beverage Company quickly became the leading producer of canned soft drinks larger than any other plant in America. Soon, franchises started up in Los Angeles and Compton, California and Peoria, Illinois. But as quickly as Can-a-Pop sprung to the top, its bubble was popped by such brands as Coca Cola, Pepsi, Fanta and Nehi. These brands held national recognition and advertising and edged out the hometown soda company.
The brewery was torn down in 1994, and a park is now at the spot of Sheridan Brewing Company. But never fear there are still plenty of places in Sheridan, Wyoming to have a cold one.
SOURCES:
Pictures from the Sheridan County Museum
Blair, Pat, Prater, Dana and the Sheridan County Museum.
Images of America: Sheridan
. Arcadia Publishing, 2008.
Kirsten Lynn writes stories based on the people and history of the West, more specifically those who live and love in Wyoming and Montana. Using her MA in Naval History, Kirsten, weaves her love of the West and the military together in many of her stories, merging these two halves of her heart. When she's not roping, riding and rabble-rousing with the cowboys and cowgirls who reside in her endless imagination, Kirsten works as a professional historian.